WDE-K40
BMETERS' Horizontal Woltmann meter
WDE-K40
The WDE-K40 is a horizontal Woltmann with a removable insert and sealed counter mechanism with a magnetic transmission.
The WDE-K40 has a sealed counter mechanism with magnetic transmission and direct reading across 6-numerical rolls.

Used for industry and irrigation, the WDE-K40 comes pre-equipped for pulse emitter device mounting.

Available in sizes from DN50 – 2" to DN200 – 8", for both cold water up to 50°C and hot water up to 90°C.

Approved according to MID 2004 /22/CE range R100-H/R100-V, ISO 4064 and OIML R49 compliant.
R100-H/V
Available for cold water 0°C – 50°C only
Magnetic transmission
Direct reading on 6 numeric rolls
Always equiped with REED pulse emitter

With removable insert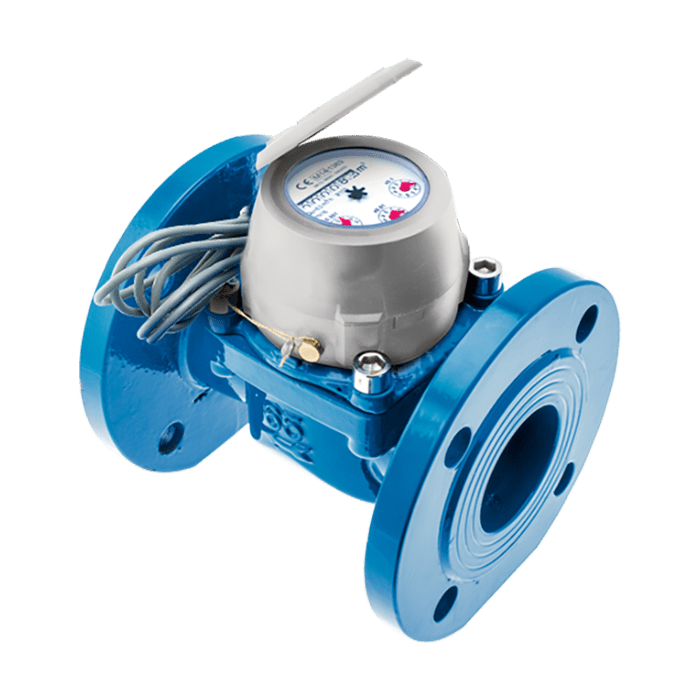 Technical Features
Size
DN
50
(2″)
65
(2 1/2″)
80
(3")
100
(4")
125
(5")
150
(6")
200
(8")
Overload flow rate Q4
m³/h
50
78.75
125
200
200
312.5
500
Permanent flow rate Q3
m³/h
40
63
100
160
160
250
400
Transitional flow rate Q2
m³/h
0.64
1.008
1.6
2.56
2.56
4.0
6.4
Minimum flow rate Q1
m³/h
0.40
0.63
1.00
1.60
1.60
2.50
4.00
Minimum reading
l
0.5
0.5
0.5
0.5
0.5
5
5
Maximum reading
m³
999,999
999,999
999,999
999,999
999,999
9,999,999
9,999,999
Maximum pressure loss at Q3
bar
0.16
0.25
0.16
0.25
0.16
0.16
0.16
Max admissible pressure MAP
bar
16
16
16
16
16
16
16
Installation Positions
Dimensions & Weights
Size
DN
50
(2″)
65
(2″1/2)
80
(3″)
100
(4″)
125
(5″)
150
(6″)
200
(8″)
L
mm
200
200
225
250
250
300
350
H
mm
123
123
149
147
274
311
365
h
mm
78
87
95
106
117
134
165
Weight
Kg
7.95
10.10
14.28
16.50
20.30
34.00
45.00
Flange ISO 7005-2 / EN 1092-2 PN16
Ready to Ship
Metering products and reading system modules are ready to ship
Next Day Delivery
Order before 5pm for guaranteed next day delivery on stocked products
Free Help & Support
Free lifetime technical support on all products and systems by B METERS
Quality Guaranteed
We've been manufacturing precise measurement instruments for over 25 years