ULTRAHEAT®T550 (UH50)
Heating & Cooling Meters
ULTRAHEAT®T550 (UH50)
DISTRICT HEAT AND COLD MEASUREMENT
T550 the professional: high-precision, modularity, reliable technology for all heating and cooling applications.
Features:
Ultrasonic principle
Accurate, rugged, non-wearing
Full-metal measurement tube resistant to soiling (DuraSurfaceTM)
No moving parts, so no mechanical wear
No straight pipe sections are necessary
Straightforward two-button operation
Logbook included as standard
Datalogger for monitoring
Two slots for communication modules
Battery operated up to 16 years or 24 V AC/DC to 230 V
Automatic self diagnoses and fault detection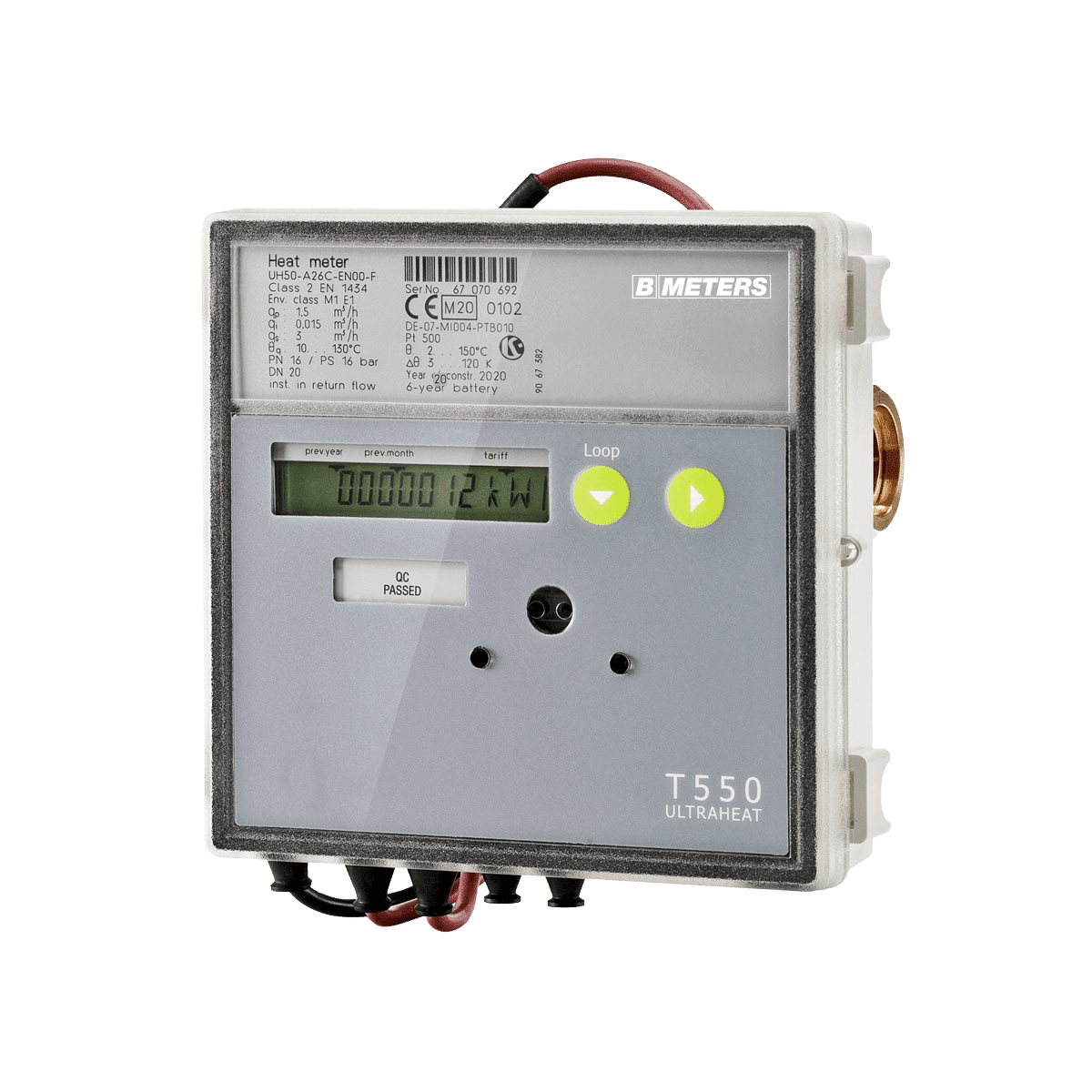 The high-precision ultrasonic heat meter – developed for every application
The ULTRAHEAT®T550 (UH50…) heat, cooling or combined heat/cooling meter has been designed specifically for the varied applications of heat and cold measurement: It meets the special requirements of district heating and cooling, local heat and building installation. Whether for a detached house, apartment building or special tariff customer – the dimensions and the specific scope of the T550 are always right. Modularity and flexibility of individual software settings permit ideal adaption to your requirements and applications.
A new standard for flow rate measurement
At the T550 (UH50…) flow rate measurement occurs without mechanical moving parts according to the non-wearing ultrasonic method. The full-metal design is robust and durable and needs no straight pipe sections. This saves space and costs.
With the innovative DuraSurface™, the T550 (UH50…) is setting new standards in measurement stability. For this purpose, volume measuring units up to qp 2.5 are fitted with the special internal profile. DuraSurface™ ensures that interfering out from the outset. That makes the meter more resistant to dirt deposits. This future-oriented innovation ensures measuring accuracy and maintenance-free operation for many years.
A security package enables early detection of tampering and possible problems with the system. So the T550 (UH50…) records and signals incipient soil in the system and offers effective tampering detection on the temperature sensors. The undeletable logbook as a standard feature rounds off this function perfectly. Monthly values also make consumption and measurement values plausible and traceable.
A customised communication
A wide and constantly expanding range of communication modules makes the ULTRAHEAT T550 (UH50…) future-proof. Two serial slots allow the use of parallel communication ways. A standard optical interface allows reading out consumption values over a hand-held terminal and enables smooth integration in different systems.
Technical Data
| General | | |
| --- | --- | --- |
| Approval | EN 1434 class 2 | |
| Protection class (flow part) | IP 54 / (IP65) | |
| LCD | 7-Digit | |
| Energy Units | kWh / MWh or MJ / GJ | |
| Temperature range | 5-130 | [°C] |
| Max. diff. of temp. | 120 | [K] |
| Min. diff. of temp. | 3 | [K] |
| Switch-off limit | 0.2 | [K] |
Threaded Connection
Nominal flow (qp)
0.6
1.5
0.6
1.5
2.5
2.5
3.5
6.0
10
[m3/h]
Max. flow (qs)
1.2
3.0
1.2
3.0
5.0
5.0
7.0
12
20
[m3/h]
Min. flow (qi) (1:100)
6
15
6
15
25
25
35
60
100
[l/h]
Response Threshold (variable)
2.4
6
2.4
6
10
10
14
24
40
[l/h]
Length
110
110
190
130/190
130
190
260
190/260
300
[mm]
Thread
G¾
G¾
G1
G1
G1
G1
G1
G1¼
G2
—
Pressure loss at qp
(mounting length 110 mm)
150
170
150
160
200
210
55
190/140
130
[mbar]
Flanged Connection
Nominal flow (qp)
0.6
1.5
2.5
3.5
6
10
15
25
40
60
[m3/h]
Max. flow (qs)
1.2
3.0
5.0
7.0
12
20
30
50
80
120
[m3/h]
Min. flow (qi) (1:100)
6
15
25
35
60
100
150
250
400
600
[l/h]
Response Threshold (variable)
2.4
6
10
14
24
40
60
100
160
240
[l/h]
Length
190
190
190
260
260
300
270
300
300
360
[mm]
Flange
DN20
DN20
DN20
DN25
DN25
DN40
DN50
DN65
DN80
DN100
—
Pressure loss at qp
(mounting length 110 mm)
150
160
210
55
140
130
110
105
160
115
[mbar]
Ready to Ship
Metering products and reading system modules are ready to ship
Next Day Delivery
Order before 5pm for guaranteed next day delivery on stocked products
Free Help & Support
Free lifetime technical support on all products and systems by B METERS
Quality Guaranteed
We've been manufacturing precise measurement instruments for over 25 years