ULTRAHEAT®T330
Heating & Cooling Meters
ULTRAHEAT®T330
HEATING & COOLING METERS
The T330 combines the proven technologies of ULTRAHEAT meters and thus covers a wider range of individual consumption metering in apartments, local heating or building technologies.
Features:
Ultrasonic heat meter, cooling meter
or combined heat/cooling meter
Insensitive to soiling and deposits
Fast, intelligent measurement for all applications
Flat, detachable calculator
Temperature range: 5-105 °C (optional 5-130 °C)
Short measuring intervals and high load capacity
Measuring of smallest flows
Data storage for 24 months
2 monthly set days (middle of month)
Fast and safe installation
No straight lengths of pipe or flow strengtheners required
Comply with the strict European Directive (class 2)
Fast communication
Precise, resistant, non-wearing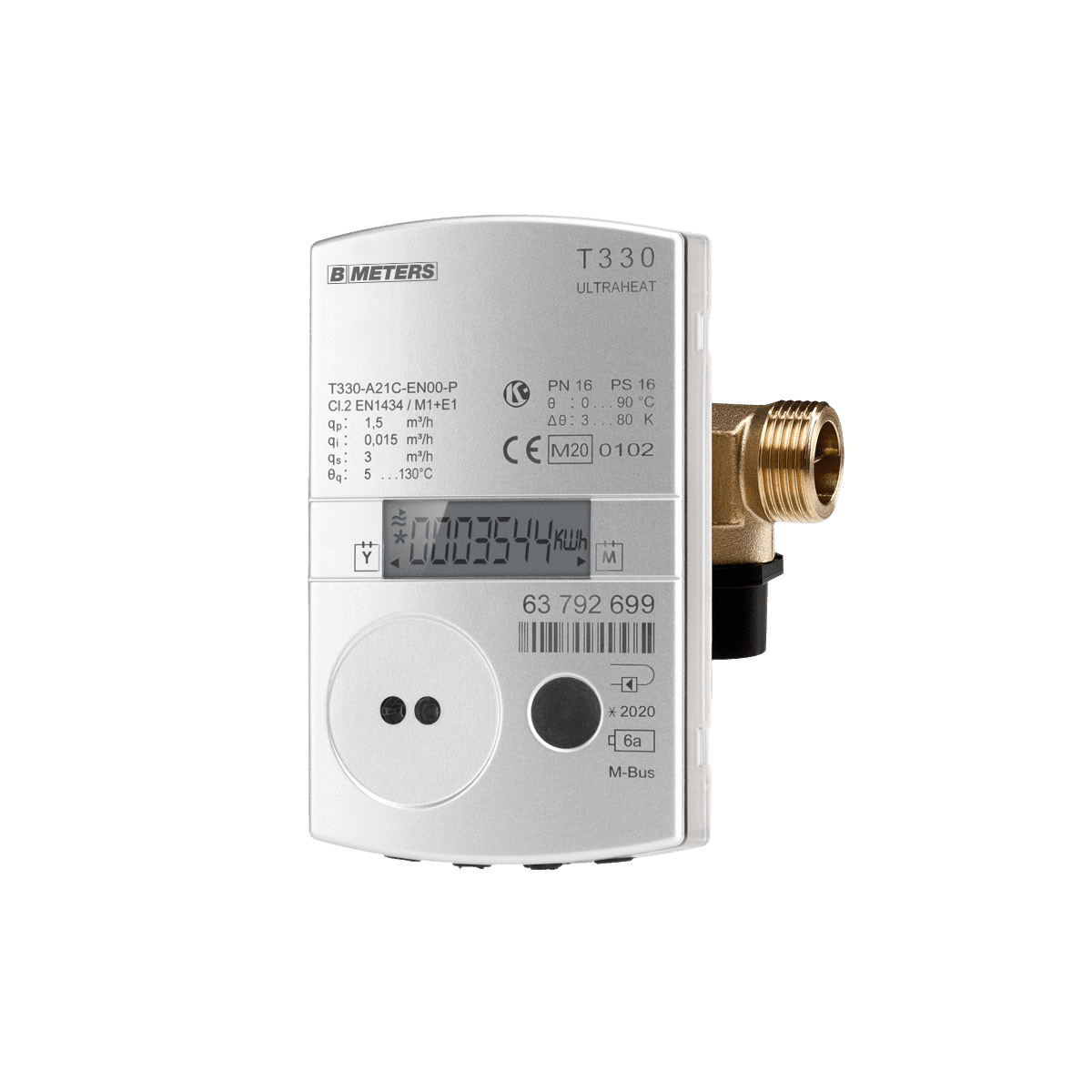 Retaining the proven to create something new.
Compact
Versatile installation options
The extremely compact design of the T330, as well as the rotatable and detachable calculator simplify the installation of the meter and facilitate reading. Even where there is a lack of space, such as for example in narrow meter cabinets or poorly accessible places, the T330 can be used effortlessly.
Proven
Platform strategy
For more than five decades the Landis+Gyr ultrasonic meters have been successful in tough district and residential heating applications.
Recognised and well-proven meter components have been improved and combined into a new concept. The precision of the measuring unit and the consistent operating concept of the calculator ensure familiar handling of the T330, such as installation, operation and readout.
Reliable
Excellent measuring stability
The T330 has a full-metal measuring unit without moving parts in the measuring channel and is equipped with the special internal profile DuraSurface™. This makes it insensitive to soiling and ensures failure-free operation with constant measuring accuracy over many years.
Intelligent
New advanced features
The advanced software features ensure easier handling of the measurement data and help the thermal energy meter to adapt intelligently to changing situations in order to deliver precise measurement results.
Adaptive measurement
Temperature compensation
Manual Parameterisation
Statistical values
Monthly values, due dates
Technical Data
| General | | |
| --- | --- | --- |
| Approval | MID (EN 1434:2016, national cooling) | |
| Protection class (flow part) | IP 54 / (IP65) | |
| LCD | 10 mm high symbols | |
| Temperature range (flow part) | 5 … 130 | [°C] |
| Temp.-Diff. ΔT | 3 … 80 | [K] |
| Nominal Pressure | PN16, (PN25) | [bar] |
| Threaded Connection | | | | |
| --- | --- | --- | --- | --- |
| Nominal flow rate (qp) | 0.6 | 1.5 | 2.5 | [m3/h] |
| Max. flow (qs) | 1.2 | 3.0 | 5.0 | [m3/h] |
| Min. flow (qi) | 6 | 15 | 25 | [l/h] |
| Operating limit | 1.2 | 3 | 5 | [l/h] |
| Mounting length | 110 / 190 | 110 / 130 / 190 | 130 / 190 | [mm] |
| Threaded connection | G¾ / G1 | G¾ / G1 / G1 | G1 / G1 | — |
Ready to Ship
Metering products and reading system modules are ready to ship
Next Day Delivery
Order before 5pm for guaranteed next day delivery on stocked products
Free Help & Support
Free lifetime technical support on all products and systems by B METERS
Quality Guaranteed
We've been manufacturing precise measurement instruments for over 25 years