ULTRAHEAT®T230
Heating & Cooling Meters
ULTRAHEAT®T230
HEATING & COOLING METERS
The smart ULTRAHEAT®T230 is the new generation of ultrasonic heat or cooling meter especially developed and optimised to meet all residential needs.
The meter has impressive features; light in weight, robust, economic efficiency, user-friendliness, and its new individuality. Improved features made for easier handling and understanding.
Features:
Ultrasonic principle
Heat meter, cooling meter or
combined heat/cooling meter
Accurate, rugged, non-wearing
Glass-fiber reinforced measurement tube
Smart metering for all applications
No straight pipe sections necessary
Any mounting orientation without limitation
Environmental-friendly construction
Huge dynamic range: 1:1000
Temperature range: 5-90 °C
Storage for 24 monthly values
2 monthly set days
Battery operated up to 11 years
Optical interface
M-Bus Interface (optional)
Wireless M-Bus InterfacePulse Interface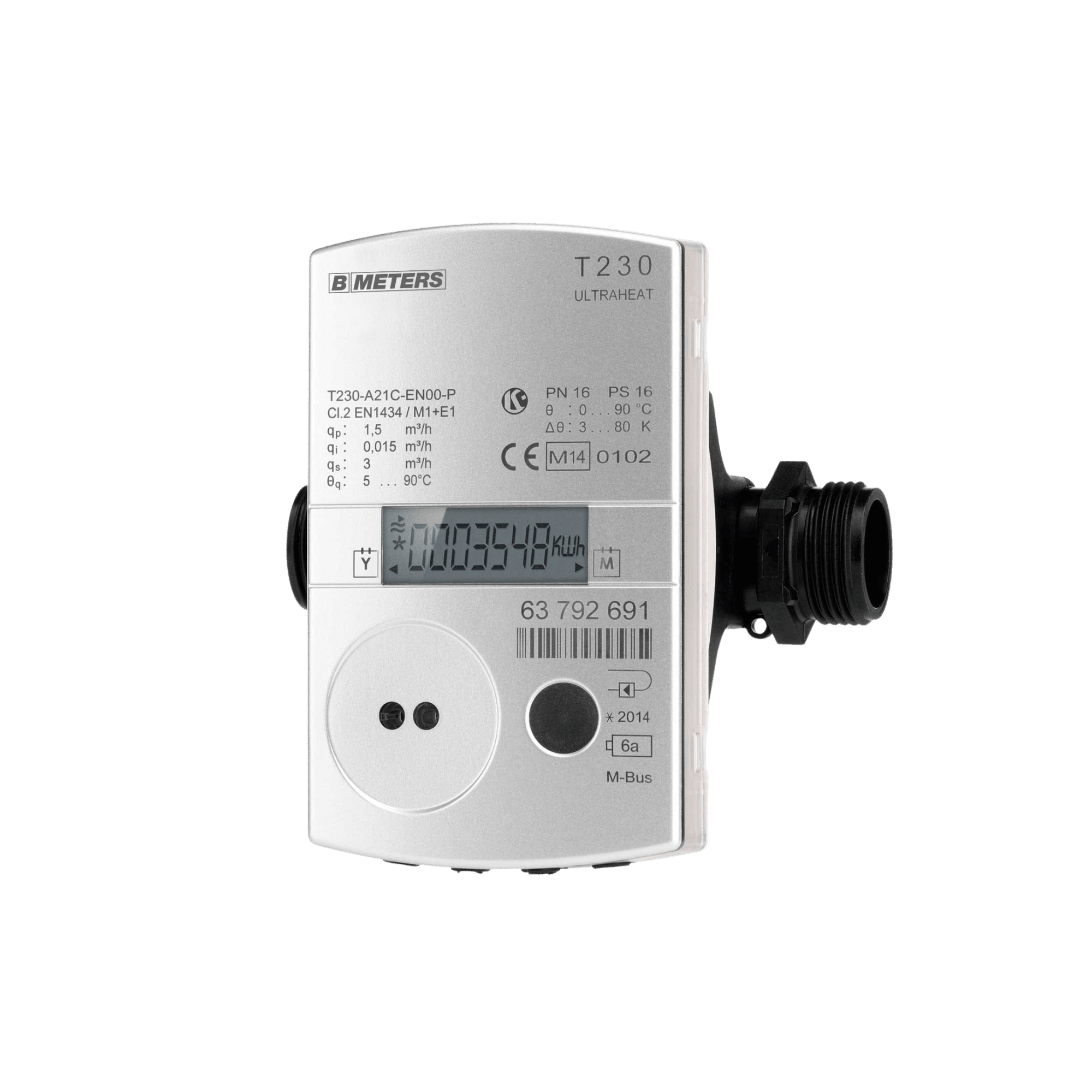 Simply the best: The new generation of smart residential heat and cooling meters with a composite-flow part
Light, strong, ecological
To meet market requirements, customer satisfaction and environmental friendliness we have used a new durable material; the robust glass-fiber reinforced measuring tube is very light and makes the meter easy to handle and simplifies the installation. This saves transportation costs and reduces emissions. The reduction of Lithium batteries with less protects the environment as well.
Superiority by economic efficiency
Ultrasonic heating and cooling meters, especially the T230 represent a promising alternative to mechanical meters and it offers a host of impressive and convincing technical advancements.
The T230 has significantly lower pressure losses, which simplify the dimensioning of the meter and economise expensive operating current year by year.
With the huge dynamic range of 1:1000 all flow rates can precisely be measured, even the smallest. The hard-coded starting value amounts only a few litres per hour and wouldn't be affected by soiling or abrasion.
Confidence by accuracy
The T230 works with the proven ultrasonic measurement technology of B Meters giving the highest accuracy, no maintenance and stable measurement for many years.
Ultrasound measurement of flow is as precise as over-loadable, also insensitive to dirt in the heating water and it ensures a smooth operation over time.
This is what we call state-of-the-art technology.
Technical Data
| General | | |
| --- | --- | --- |
| Approval | MID (EN 1434) | |
| Protection class (flow part) | IP 54 / (IP65) | |
| LCD | 7-Digit | |
| Energy Units | kWh / MWh or MJ / GJ | |
| Temperature range | 5-90 | [°C] |
| Nominal pressure | PN16 | [bar] |
| Max. diff. of temp. | 80 | [K] |
| Min. diff. of temp. | 3 | [K] |
| Switch-off limit | 0.2 | [K] |
Threaded Connection
Nominal flow rate (qp)
0.6
1.5
2.5
[m3/h]
Max. flow (qs)
1.2
3.0
5.0
[m3/h]
Min. flow (qi)
6
15
25
[l/h]
Operating limit
1.2
3
5
[l/h]
Mounting length
110
110 / 130
130
[mm]
Thread connection
G¾
G¾ / G1
G1
—
Pressure loss at qp
(mounting length 110 mm)
75
135
—
[mbar]
Pressure loss at qp
(mounting length 130 mm)
—
135
165
[mbar]
Ready to Ship
Metering products and reading system modules are ready to ship
Next Day Delivery
Order before 5pm for guaranteed next day delivery on stocked products
Free Help & Support
Free lifetime technical support on all products and systems by B METERS
Quality Guaranteed
We've been manufacturing precise measurement instruments for over 25 years