HYDRODIGIT-S1
Digital single jet smart meter
HYDRODIGIT-S1
The digital single jet smart meter
The HYDRODIGIT-S1 is a single jet water meter with a digital display across 8 digits and inductive transmission.

Produced in versions for cold and hot water in diameters DN15 and DN20 mm (1/2″ – 3/4″), this meter has a 360° rotating dial for ease of reading.

Wireless M-BUS OMS or LoRa integrated transmission module.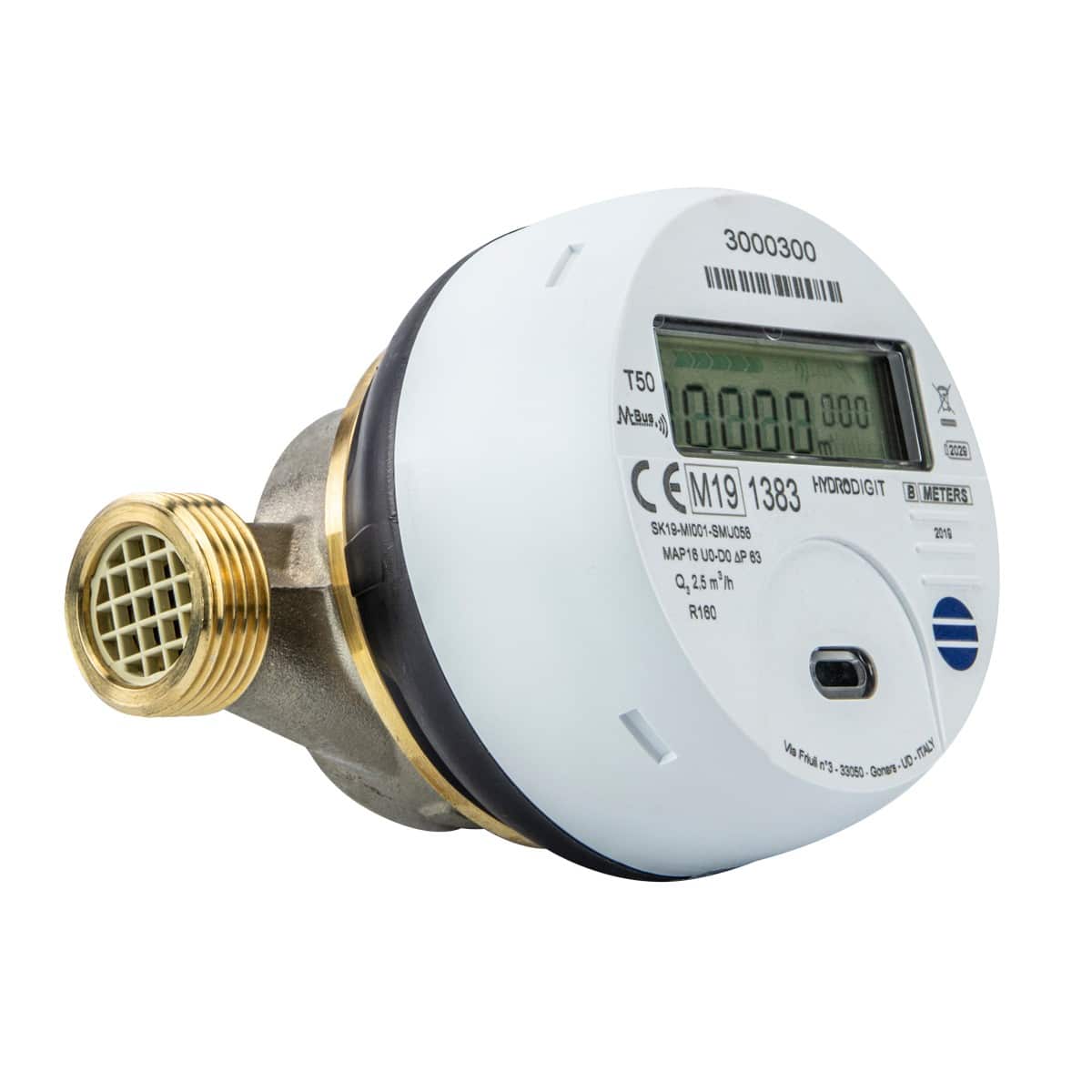 Single jet meter

Anti-Magnetic Fraud Protection

Direct reading on 8-digit LCD display

Battery life 10 years

360° rotating digital dial

Integrated WMBUS system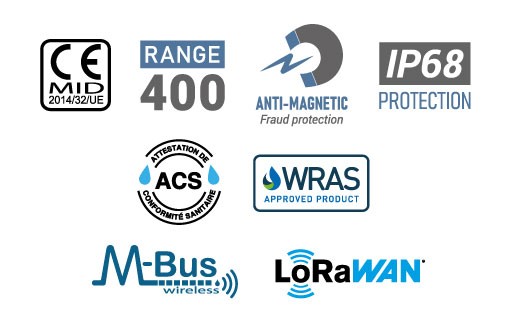 Basic Version
Available in R250-H ↑ and R160-V H ↓ → versions
For cold water 0.1 – 50°C
For hot water 30 – 90°C
Turbine reading through inductive system
Direct reading on 8-digit LCD display
IP68 Protection
Battery life of 10 years
Historical consumption archive
Alarms (Reverse flow, losses, etc.)
360° rotating digital dial
Impossible to fraud magnetically
Integrated communication modules WMBUS or LoRa
Connectable to a PC via an IR IEC 62056-21 probe
Upon Request
Equipped with NB-IoT module
R400-H ↑ and R160-V H ↓ → versions
R160 version
Lid
Technical Features
Size
mm
(in)
15
(1/2")
20
(3/4")
Overload flow rate Q4
m³/h
3.125
5
Permanent flow rate Q3
m³/h
2.5
4
Min reading
l
2
3
Max reading
m3
99,999
99,999
Max admissible pressure MAP
bar
16
16
R=160VH
mm
(in)
15
(1/2″)
20
(3/4")
Transitional flow rate Q2
l/h
25
40
Min flow rate Q1
l/h
15.625
25
R=250H ↑
mm
(in)
15
(1/2″)
20
(3/4")
Transitional flow rate Q2
l/h
16
25.6
Min flow rate Q1
l/h
10
16
R=400H ↑
mm
(in)
15
(1/2″)
20
(3/4")
Transitional flow rate Q2
l/h
10
16
Min flow rate Q1
l/h
6.25
10
Installation Positions

Dimensions & Weights
Size
mm
(in)
15
(1/2″)
15
(1/2")
20
(3/4")
15
(1/2″)
15
(1/2")
20
(3/4")
L
mm
80
110
130
145
165
190
I
mm
160
190
228
225
245
288
H
mm
77
74
77
74
74
77
h
mm
13
14
17
14
14
17
B
mm
81
81
81
81
81
81
D*
in
3/4"
3/4"
1"
3/4″
3/4″
1″
Weight
with Unions
Kg
0.60
0.65
0.85
0.55
0.56
0.70
Weight
without Unions
Kg
0.45
0.50
0.60
0.40
0.41
0.45
*Threading to EN ISO 228-1:2003
Ready to Ship
Metering products and reading system modules are ready to ship
Next Day Delivery
Order before 5pm for guaranteed next day delivery on stocked products
Free Help & Support
Free lifetime technical support on all products and systems by B METERS
Quality Guaranteed
We've been manufacturing precise measurement instruments for over 25 years