GSD8-45
Single jet meter, dry dial, direct reading on 8 numerical rolls
GSD8-45
The GSD8-45 is a single jet water meter with a dry dial and direct reading on 8 numerical rolls and 1 index. The 45° angled dial configuration allow the consumption reading from different angles, whilst maintaining the horizontal installation and assuring the best accuracy and sensibility.
With an anti-fraud ring and 360° rotating lid, the GSD8-45 is available in sizes DN15 – 1/2" and DN20 3/4" for both cold water, from 0° to 50°C, and hot water, from 30° to 90°C.

Approved according to MID 2004 /22/CE up to the range R160-H/R50-V, ISO 4064 and OIML R49 compliant.
Single jet meter
Dry dial
Direct reading on 8 numeric rolls
MID approved
Cold water up to 50°C
Magnetic transmission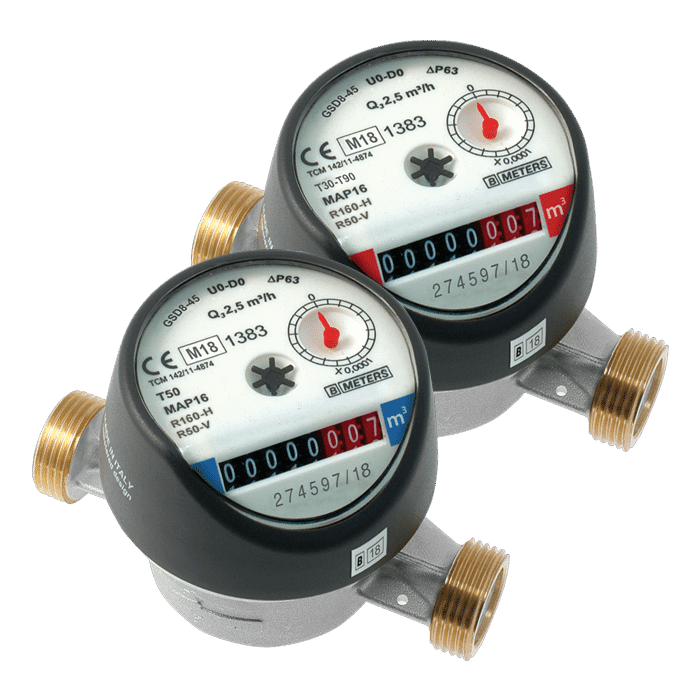 Technical Features
Size
DN
15
(1/2″)
20
(3/4")
Overload flow rate Q4
m³/h
3.12
5
Permanent flow rate Q3
m³/h
2.5
4
Minimum reading
l
0.05
0.05
Maximum reading
m³
99.999
99.999
Maximum admissible pressure MAP
bar
16
16
R=100H ↑
mm
(in)
15
(1/2″)
15
(1/2")
20
(3/4")
Transitional flow rate Q2
l/h
25.6
40
64
Min flow rate Q1
l/h
16
25
40
R=160H ↑
mm
(in)
15
(1/2″)
15
(1/2")
20
(3/4")
Transitional flow rate Q2
l/h
16
25
40
Min flow rate Q1
l/h
10
15.63
25
Installation Positions
Dimensions & Weights
mm
(in)
15
(1/2″)
20
(3/4")
L
mm
110
130
I
mm
190
228
H
mm
70
70
h
mm
13
13
B
mm
74
74
D Threading*
in
3/4″
1″
Weight with Unions
Kg
0.65
0.85
Weight without Unions
Kg
0.50
0.60
* Threading to EN ISO 228-1 : 2003
Ready to Ship
Metering products and reading system modules are ready to ship
Next Day Delivery
Order before 5pm for guaranteed next day delivery on stocked products
Free Help & Support
Free lifetime technical support on all products and systems by B METERS
Quality Guaranteed
We've been manufacturing precise measurement instruments for over 25 years